Chocolate Crunch Peanut Butter Treats
DuChick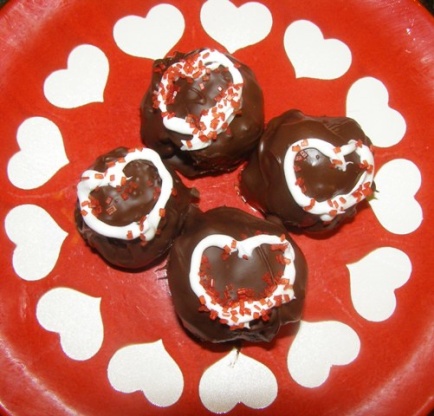 These are great for holidays (CHRISTmas, Easter, you name it)! You can decorate the outside with colored frosting with your kids initials or whatever else you decide.

Perfect treat for anyone who adores chocolate and peanut butter! These are easy to make, and when all dipped and prettied up, they look so impressive and elegant. These would make a very nice treat to give to someone special...or just keep all for yourself! Reviewed for February Beverage Tag '08.
Combine sugar, peanut butter, rice krispies, and oil together.
Take spoonfuls sized however large you want and drop onto wax paper cookie sheet.
Freeze for about 30 minutes.
Remove from freezer. Shape into eggs, hearts for Valentines, or other shapes according to holidays with cookie cutters if you need to. Put back on wax paper covered cookie sheet. Freeze for 2 hours.
Melt dipping chocolate or chocolate with some grated paraffin wax in microwave.
Dip eggs in and completely cover. Put back on cookie sheet and refrigerate. Decorate.
Cooking time is freezing time.