Chocolate Crumble Muffins
Redsie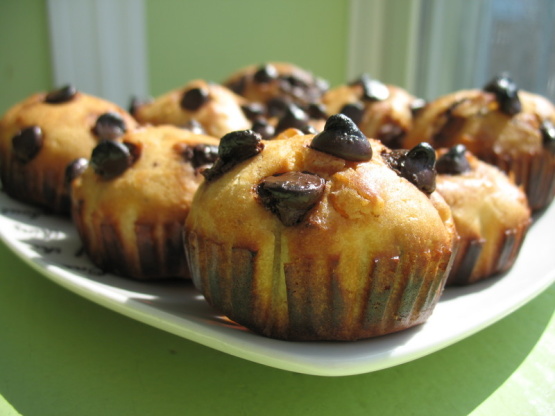 More a cross between a shortcake and a biscuit than a traditional muffin texture, these are moist and crumbly. Best eaten warm.

Top Review by Redsie
These muffins were a hit at my office - they were gone in a flash!! I used milk instead of cream and used candied orange and lemon peels. The muffins come out small but packed with taste. My only problem was the heat of the oven - it burnt the bottom of the muffins a bit - next time I would put the oven at 350 the whole time. Thanks SusieQusie!
1 3⁄4 cups self-rising flour

1

pinch salt
1⁄3 cup sugar, plus

1

tablespoon sugar

6

tablespoons unsalted butter, chilled and cut into small pieces

3

ounces bittersweet chocolate (grated or finely chopped)
1⁄2 cup pecans, finely chopped (optional) or 1⁄2 cup almonds, chopped (optional)

2

tablespoons dried candied orange peel, finely chopped (recipe just said citrus peel, I love orange and chocolate together)

1

large egg, slightly beaten
3⁄4 cup light cream (may need a little more or less)
chocolate chips, for garnish
Preheat oven to 425ºF.
Butter a 12-hole muffin pan or line it with cupcake papers.
Sift the flour, salt and sugar into a mixing bowl.
Add the butter and using the tips of your fingers, rub the mixture until it resembles fine bread crumbs.
Stir in the chocolate, nuts (if using) and citrus peel.
Break the egg into a measuring cup, whisk slightly, then add enough light cream to make 1 cup of liquid ingredients.
Add the egg/milk mixture to the other ingredients and stir just until the dough comes together - it will be quite sticky.
Divide the dough equally among the muffin cases, then decorate with chocolate chips, if using.
Bake for 10 minutes.
Lower heat to 350ºF and bake an additional 5-10 minutes or until golden brown and firm to touch.
Remove from oven and cool slightly on a baking rack.
Store leftovers in an airtight container.