Chocolate Crisps (Cookies)
Pneuma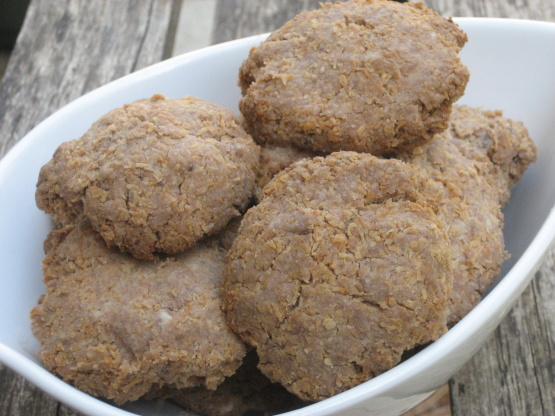 Another from my old hand written cookbook of recipes I made when my girls were young for after school snacks or lunch boxes. Yield depends on size of spoon used to put mix on trays.

One of the best homemade biscuits I have ever had the pleasure of making. The boiled butter/sugar created a slightly thick almost toffee like mixture. I am unsure if I let it go a little too long past "just boiling" but it was a success. I wasn't sure what a "little" hot water was so just added little splashes extra til it looked like a manageable consistency. I definitely wouldn't say it is like a shortbread though, like Seasoned Cook's review said...so maybe it did make a difference. Either way, they're fabulous. Next time I would double the cocoa as our personal pref if for stronger chocky flavour, and reduce the coconut to one cup, maybe one and a half. This recipe will be used again and again.
Bring to a boil ina pot the butter and sugar.
Addd the dry ingredients, vanilla and cocoa which has been mixed with a little hot water.
Place spoonfuls of miture onto cold baking tray and flatten lightly with a fork.
Bake at 350'F for 12-15 minutes.
Remove from oven and cool on a wire rack.