Gooey inside, crispy outside. Vegetable oil, not butter or shortening.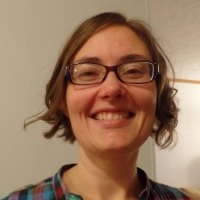 These are delicious! They are definitely gooey after just cooking. I found that by the time they were completely cool they were soft, but no longer gooey. I have a super sweet tooth, so I think had these not been rolled in powder sugar I would have wanted them to be a little sweeter, but since they are: Yum! I mixed the cocoa into the dry mixture instead of the wet mixture to avoid clumping, otherwise I didn't change a thing. After mixing the "dough" looked like brownie batter, it was that liquidy. But fear not, chilling it does wonders and make it workable. I had a 1 5/8 oz (1.625 oz) scoop, which made them entirely too big so I tore them in half after scooping and they were just right. I got 34 cookies. Made for PAC Fall 2012.
Mix sugar and oil.
Mix in cocoa.
Beat in eggs and vanilla.
Mix flour, salt, and baking powder and mix into cocoa mixture.
Cover and chill for at least 2 hours.
Heat oven to 350.
Use cookie scoop to make into balls.
Roll in powders sugar. Make sure they are well coated.
Place on parchment paper, 2 inches apart.
Bake 12 minutes.
Remove to wire rack.