skat5762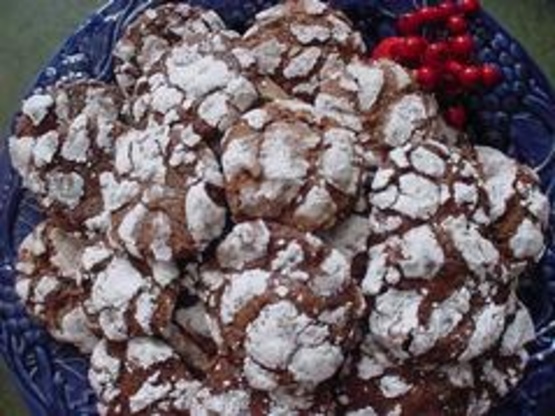 Chocolate and powdered sugar together in one delicious cookie! Thanks Mom!

Top Review by HopeK
I baked at 350 F. for 11 mins. and got soft chewy cookies. Keep the dough in the fridge between rolling to keep it from getting mushy. It was easier to scoop abt. a tsp. full of dough onto the powdered sugar and roll it into a ball once it was coated in the powdered sugar. Delicious.
Cream shortening, sugar, vanilla.
Beat in eggs, then chocolate.
In another bowl sift 2 cup flour, baking powder, salt:mix well.
Add this alternately with milk to shortening mixture, mixing well after each addition.
Chill for 2 hours.
Form into one-inch balls and roll in powdered sugar.
Place on greased cookie sheet 2-3 inches apart.
Bake at 350°F for approx 10 minutes for soft cookies, 13 for more firm/hard.
Cool slightly before removing from cookie sheet, then cool on wire racks.