-Patrish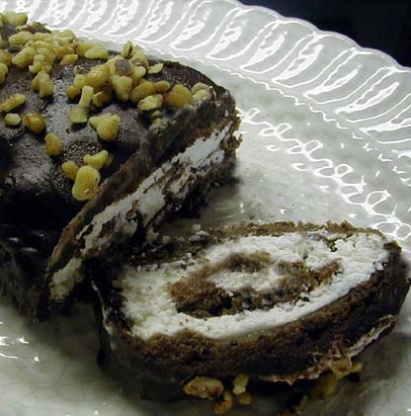 Did you love SuzyQ's when you were little but find them lacking somehow now that you're all grown up? Well, next time you get a craving, try this cake instead! This will satisfy you if you've lost that lovin' feelin' for SuzyQ's! Source: Epicurious Forum.

I made this today for Father's Day and my husband's birthday. What a pretty presentation! I had no whipping cream on hand, and we like fillings a little less sweet, so I combined 8 oz of cream cheese with a 16 oz tub of Cool Whip, 3 Tbs of sugar, and 1 Tbs of vanilla. It was yummy! I left out the nuts at my husband's request, but besides the change in filling, followed the recipe to a T. Very simple actually and good!
Grease 15x10x1-inch jelly roll pan, then line with waxed paper, extending paper at short ends.
Grease paper; set aside.
Stir together cocoa and flour until well blended; set aside.
In large bowl of mixer beat eggs at high speed until very light, about 5 minutes.
Gradually beat in confectioners sugar and beat until very fluffy and lemon colored, about 5 minutes.
Fold cocoa mixture and vanilla into egg mixture until well blended.
Pour batter into prepared pan and spread evenly.
Bake in preheated 350-degree oven 20 minutes or until toothpick inserted in center comes out clean.
Cool in pan on rack 5 minutes.
Loosen edges of cake with thin-bladed spatula.
Sprinkle clean dish towel generously with granulated sugar and invert cake onto towel.
Peel off paper.
Starting at short end, roll up cake and towel as for jelly roll.
Cool on rack.
Unroll.
Spread cake with cream filling.
Reroll without towel.
Place on platter and frost with Thin Chocolate Glaze.
Chill several hours or overnight.
Garnish with dollops of whipped cream or pistachios.
CREAM FILLING: Beat 1 cup whipping cream and a few tbsp of granulated or confectioners sugar until soft peaks form, adding about 1/4 to 1/2 tsp vanilla extract if you like.
THIN CHOCOLATE GLAZE: Melt 5 squares (5 oz) semisweet chocolate in pan, stir in 1/3 cup hot water.
Spread thinly over roll.