Chocolate-Cream Cheese-Peanut Butter Bars (Cookie Mix)
Prep 20 mins
Cook 45 mins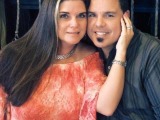 From Betty Crocker online.
Cookie Base and Topping

1 (17 1/2 ounce) envelopebetty crocker peanut butter cookie dough (mix)
3 tablespoons vegetable oil
1 tablespoon water
1 egg

Filling

1 1⁄4 cups semi-sweet chocolate chips
1 (8 ounce) package cream cheese, softened
2⁄3 cup peanut butter
3⁄4 cup powdered sugar
1⁄2 cup whipping cream
Directions
Heat oven to 350°F.
Spray bottom only of 13x9-inch pan with cooking spray.
In large bowl, stir cookie base and topping ingredients until soft dough forms.
Shape 6 (1-inch) balls of dough.
On ungreased cookie sheet, place balls 2 inches apart; flatten in crisscross pattern with fork.
Then with the remaining cookie dough, press into 9 X 13 inch pan.
Bake cookies and base 10 to 12 minutes or until edges are light golden brown.
Cool 10 minutes.
Reserve the 6 cookies for topping.
In small microwavable bowl, microwave chocolate chips and butter uncovered on high 1 minute to 1 minute 30 seconds, stirring every 30 seconds, until melted and stirred smooth.
Spread evenly over bars.
Refrigerate until firm, about 30 minutes.
In medium bowl, beat cream cheese, peanut butter, powdered sugar and whipping cream with electric mixer on low speed until blended.
Beat on high speed about 2 minutes or until light and fluffy.
Spread over chocolate layer.
Crush reserved cookies; sprinkle over cream cheese layer.
Press in lightly.
Refrigerate until set, about 30 minutes.
For bars, cut into 9 rows by 4 rows.
Store covered in refrigerator.