Chocolate Cream Cheese Cupcakes
Hadice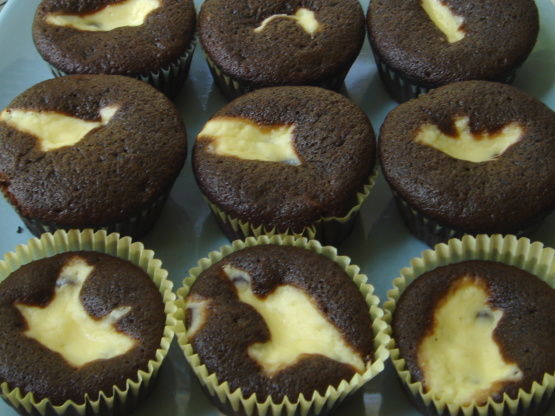 These cupcakes are one of the most requested recipe. I have made them for years. Can't remember where I got the recipe.

Top Review by Lindt6
These cupcakes are fantastic! I am not a big cake fan, though these were so moist and tasty. i made them in my silicone mini muffin tray without patty papers and they worked perfectly. They didn't stick at all. I made the recipe exactly and they were great... i have made 2 batches in 3 days! I also tested a few by putting the chocolate mixture on the bottom, then the cream cheese, then chocolate on the top and I think I will make them all that way next time.Thanks for a great recipe!
In a small bowl, combine first four ingredients.
Add chocolate chips and set aside.
Mix remaining ingredients well.
Fill muffin tins, lined with paper cups 1/3 to 1/2 full with this mixture.
Drop a large spoonful of cheese mixture on top.
Bake at 350 for 20 to 25 minutes.