Chocolate Cream Cheese Brownie Cake
sprue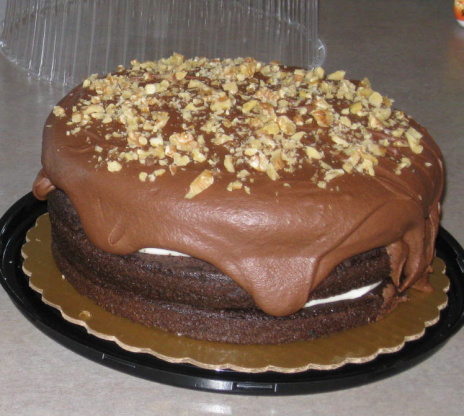 This is a cake that is a family favorite. I got it from a Gold Medal Winning State Fair Cakes cookbook.

Top Review by sprue
fun and delicious cake. i made 1.5 times the recipe so i could have 3 layers.. it looked great! i didnt use this frosting though b/c i wanted one where the chocolate was bloomed so i used 'Amanda Milk Chocolate Frosting Recipe #33778' and made it thinner so i could just pour it on the cake and it would drizzle down the sides instead of frosting the sides. then i sprinkled walnuts.. it was a beautiful cake and tasty too. and suprisingly easy to make considering how fancy it looked. thanks
For cake, heat oven to 350 degrees.
Grease bottom and side of 2 round pans, 9x1 1/2 inches, with shortening; lightly flour.
Heat water, butter, shortening and cocoa in 1-quart saucepan over medium heat, stirring occasionally, until smooth; remove from heat.
Cool to room temperature.
Mix flour, sugar, baking soda and salt in large bowl.
Beat in cocoa mixture with electric mixer on low speed, scraping bowl occasionally, until smooth.
Beat in sour cream, eggs and vanilla until smooth.
Pour into pans.
Bake 25-30 minutes or until toothpick inserted in center comes out clean.
Cool 10 minutes; remove from pans to wire rack.
Cool completely.
For cream cheese filling, beat butter and cream cheese in medium bowl on medium speed until fluffy.
Beat in powdered sugar and vanilla on low speed until smooth.
When cake is cooled completely, fill layers with cream cheese filling.
For chocolate frosting, beat butter in medium bowl on medium speed until fluffy.
Gradually beat in remaining ingredients on low speed until smooth.
Frost side and top of cake with chocolate frosting.
Press walnuts on side of cake, if using.
Store cake covered in refrigerator.