Chocolate Crackle-Top Biscuits
Pneuma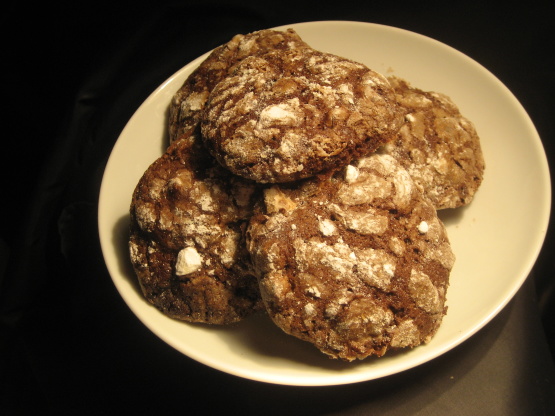 This is from Super Food Ideas. An Australian biscuit is the same as a cookie.

Top Review by Pneuma
Ugh, sorry for the late review but I remember doing this a few weeks ago and remembered how we liked it alot! Prep time was quick, made it at dawn to bring it with me on a field trip and was glad that with all the rush, it was so quick to make! Shared this with some friends and remembered how they keep nodding and saying "you made it?" "it's good! It's good!" Then they'd get again. lol Thanks to your recipe, they think I'm good! lol Made for Aus tag #25.
Place butter and 50g chocolate in a heatproof, microwave-safe bowl. Microwave, uncovered, on MEDIUM-HIGH (70%) for 1 to 2 minutes, stirring every minute with a metal spoon, or until melted and smooth.
Using an electric mixer, beat egg and brown sugar in a small bowl on high speed until thick. Stir in chocolate mixture.
Sift flour, baking powder and cocoa over chocolate mixture. Mix well.
Chop remaining chocolate into small pieces. Stir into dough. Cover and refrigerate for at least 1 hour or until firm enough to roll.
Preheat oven to 180°C Line 2 baking trays with baking paper. Roll heaped teaspoonfuls of dough into balls. Roll in icing sugar to coat. Place biscuits on trays, allowing room to spread.
Bake biscuits for 12 minutes or until firm. Stand on trays for 10 minutes before transferring to a wire rack to cool. Serve.