Kansas A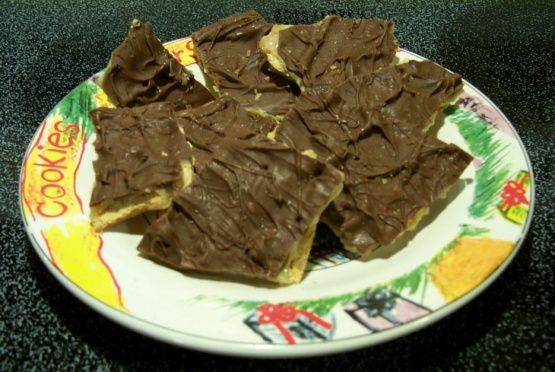 These taste almost like Score Chocolate bars and you would never know you are eating soda crackers! I was skeptical the first time I tried it but it's really true; they taste just like a Score Chocolate bar!!

Excellent and very fast and easy. I put the Christmas sprinkles on them and they look so nice cut into squares on the tray. It's funny to see the reaction on the people faces when they rave about them and I tell them what they are made out of. "No way", is usually the word. Then they request the recipe every time. Love it; an easy recipe when my son surprises me with a school party and I need something that makes lots, and is quick. A recipe that you can count on to have all the ingredients is a plus in my house. Thanks Kans
40

soda crackers, Salted or unsalted (Turned the right way 40 will fit on a cookie sheet)
3⁄4 cup granulated sugar

1

cup butter, no substitutes (I've used a 50/50 butter-marg blend and it worked)

1

(345 g) package semi-sweet chocolate chips (I've used milk chocolate, mint, semi-sweet and all different amounts, sometimes more, sometimes less)
Preheat oven to 350 degrees.
Line a cookie sheet with aluminum foil and place whole crackers on sheet.
Melt butter and sugar in saucepan over medium-high heat.
Heat to boiling; boil until sugar is completely dissolved. Spread over crackers.
Bake for 10 minutes.
Remove from oven and immediately sprinkle with chocolate chips; let stand for 3-5 minutes.
Using paint brush/barbeque brush/silicone brush or even the back of a spoon, spread melted chocolate over baked crackers.
You can sprinkle coloured sugar crystals on top or whatever you want, red & green for Christmas, orange for Halloween, etc.
Cool in fridge until hard.
Break into chunks or cut into squares.