Chocolate-Covered Strawberry Smoothie
I got this healthy smoothie from Weight Watchers. Chill a glass by putting it in the freezer for at least 20 minutes. You may want to wrap it in a napkin to keep your fingers from getting freezer-burned! It has 3 points per serving.
Directions
In blender, combine all ingredients and puree until smooth.
Pour into a tall, chilled glass.
Reviews
Most Helpful
Yummy! I used vanilla yogurt and a few tsp of chocolate syrup and it worked wonderfully. We enjoyed the combination of chocolate and strawberries. Thanks Lainey, for another keeper recipe. :)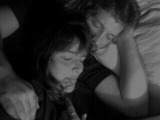 My daughter gave this a big 5-star thumbs up, having enjoyed this being on liquids after a tooth extraction. Thanks for sharing! ~Sue

Yummo, toddler DD downed this record time, I had to sneak a taste in before I gave it to her knowing that she wouldn't share this once she'd tried it. I didn't have chocolate yoghurt on hand so used vanilla with a small scoop of chocolate ice-cream left in the bottom of the tub, I also snuck in some baby spinach leaves merely for extra nutrition. Thanks Lainey!