Chocolate Covered Strawberries
Ashley Cuoco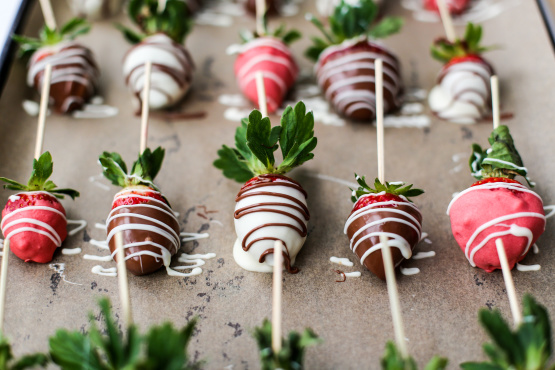 Great when it's strawberry season!!

I had leftover chocolate chips from another Strawberry recipe listed here. They were more adult friendly with coffee liqueur in them. I decided to try this recipe so they had some strawberries to try. Instead of the adding the fat, I added 2 Tablespoon of strong brewed coffee like the other recipe I tried called for plus my children love the flavor of coffee. I liked the idea of using toothpicks to help hold the strawberries while you dipped them in the chocolate. I used a double boiler to melt the chocolate and then added the brewed coffee. I couldnit put the chocolate covered strawberries into the styrofoam without touching the tips. Instead, I placed them on wax paper to dry.
Insert toothpicks into the tops of the strawberries.
In a double boiler, melt the chocolate and shortening, stirring occasionally until smooth.
Holding them by the toothpicks, dip the strawberries into the chocolate mixture.
Turn the strawberries upside down and insert the toothpick into styrofoam for the chocolate to cool.