Chocolate Covered Saltine Crackers
Rita1652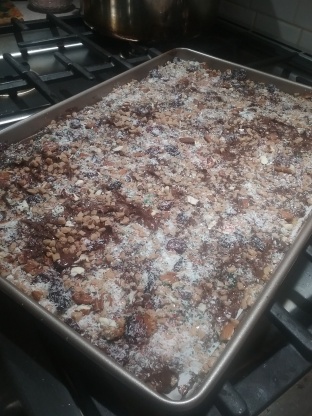 I had these sweet and salty saltines covered with chocolate and topped with nuts which I tweaked at a friend's house. Very addictive little treats.Use topping to suit the occasion.

I made these but used Reese peanut butter chips and mini semi-sweet choc chips. I put the peanut butter chips on first and put back in the oven for 1 min to make sure they melted. I spread the peanut butter chips and then added the semi-sweet chips. Again I put them in the oven for about a minute and then spread the chocolate.

Tried a "smore-like" variation.... Used graham crackers, then put on mini marshmallows (again back in the oven for about a minute) then added milk chocolate chips and put in the over for another minute then spread the marshmallow/chocolate mixture around. Kinda sticky and maybe not as pretty as the other, but it was yummy!!
40

saltine crackers

1

cup butter
3⁄4 cup brown sugar

12

ounces mini chocolate chips
1⁄2 cup chopped nuts
1⁄2 cup toffee pieces

1

tablespoon candy sprinkles (to garnish) (optional)
1⁄4 cup raisins (optional)
1⁄4-1⁄2 cup crushed mint, candy cane optional for christmas
Arrange 40 saltine crackers on a non-stick foil in a jelly roll pan.
Melt butter and brown sugar in pan and boil 3 minutes.
Pour over crackers.
Bake at 350°F for 5 minutes.
Pour chocolate chips over and let stand 5 minutes to melt.
Spread around with knife and then sprinkle nuts and toffee bits over top and or raisins.
Garnish with colored sprinkles.
Place in refrigerator until hard.
Break into bite-size pieces.