Chocolate Covered Raisins
ChefLee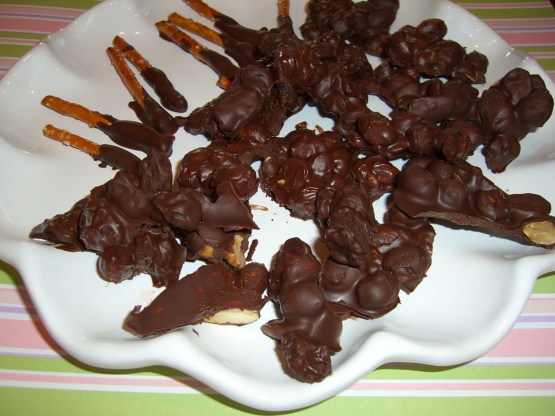 found this recipe in a book called " Everything on a Waffle"

This is a good way to get your chocolate fix....but, I did make mine a tad different though. Rather straining the chocolate, I took a spoonfull of the mixture and made clusters ... placing them on parchment paper and letting them rest for 30 minutes until they were set. Adding mixed nuts makes a nice variation. Make sure that you use a good brand of chocolate, as it does reflect on the final product. Nice addition for that "special" dinner or they could be made up for gifts!!!
melt chocolate discs in a double boiler.
dump in raisins
stir for a while.
when raisins are fully covered in chocolate pour into strainer until all access chocolate is gone
pour the raisins onto pan and let sit until dry
eat.