Chocolate-Covered Pretzels
jbethke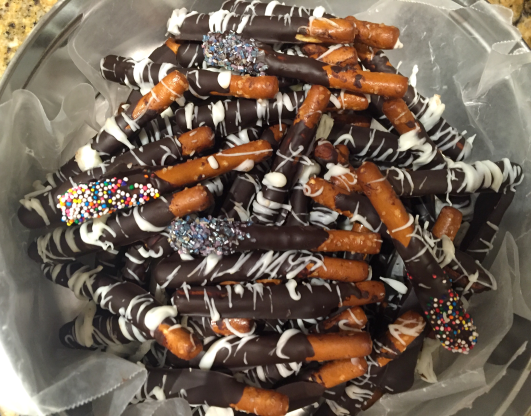 Coloured sugar, sprinkles, grated coconut or crushed candy canes may be sprinkled on right after dipping into the chocolate, have fun and use your imagination to decorate the coated pretzels, it's a fun holiday project for children of all ages! :)

Another winner for Kittencal!! I made these along with a lot of other cookies and candies for Chrismas and they were the first gone. My DH and DS liked them so much I've already made another batch for just us and they're almost gone too. I made them some with milk chocolate and white chocolate because that's what I had on hand and used sprinkles on some for that holiday cheer. The only change I made was to reduce the shortening a little so it was still easy to handle but didn't melt so fast in your hands (and also because I was using milk chocolate). I also found that using two chop sticks worked better for me than using tongs. Thanks Kittencal!
Cover a baking sheet with waxed paper.
In a double broiler set over simmering water, melt the semisweet chocolate with 2 teaspoons shortening, stirring gently constantly; remove from heat.
Using tongs dip each pretzel in chocolate allowing excess to drip off.
Place onto waxed paper (if the chocolate in the pot begins to harden then reheat slightly).
If you are sprinkling any toppings on do it right after dipping into the chocolate so it will stick.
Place the coated pretzels in the refrigerator to harden.
After the pretzels have hardened place the white chocolate in a double boiler and melt over simmering water (or you could melted in the microwave).
Drizzle the white chocolate in small strands over each pretzel.
Return to waxed paper and refrigerate.