Chocolate Covered Oranges
Chocolate and oranges...is there anything better? A quick, easy and yummy snack with 2-3 ingredients for family fun!
78.07 ml milk chocolate, chunks (I use Baker's)
3 oranges, peeled,sectioned and patted dry
59.14 ml cocktail peanuts, coarsely chopped (optional)
Directions
Microwave chocolate in microwavable bowl on high 2 minutes or until chocolate is almost melted.
Remove and stir until chocolate is completely melted.
Dip 1/2 of each ornage section into chocolate.
Place on wax paper-covered baking sheet.
Sprinkle with peanuts.
Refrigerate 15 minutes or until chocolate is set.
Store loosely covered, in refrigerator up to 3 days.
6 Servings= 1/2 orange per person.
Reviews
Most Helpful
Good, cheap, everyone will like it. Fondue on a plate. Yum!

Wow! What a treat!! Watch out chocolate covered strawberries, you have some competition in town!! I used two Hershey bars that were left over from making s'mores and that covered the sections of one orange. I didn't want to use the chopped peanuts but I did sprinkle every other one with 100's & 1000's for some color and crunch. We all loved them! Definitely ALL chocolate-orange combo lovers should try this recipe!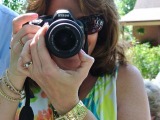 Holiday Central >