Chocolate Covered Marshmallow Easter Eggs
marygg27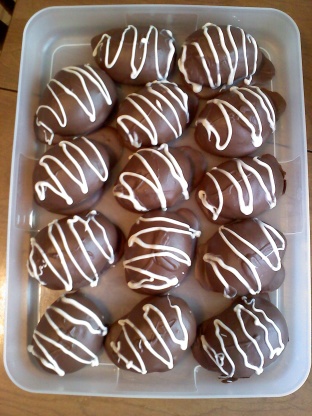 I got this recipe from my mom, but I don't know where she got it from. These are really good and simple. Don't let the amount of flour scare you. It can be sifted and reused, as it's just used in this recipe to form the egg mold.
I tried these out and to my surprise everything went to plan and they are really nice. I'm not to sure how long you can keep them for? Does anyone know? Any help would be great!
Spread 7 cups flour in each of three 13x9x2-inch baking pans, and 4 cups flour in a 9-inch square pan.
Press plastic egg halfway into flour to form an impression.
Repeat 35 times, leaving a small amount of space between each impression.
In a small bowl, sprinkle gelatin over cold water; set aside.
In a large saucepan, combine sugar, 1/2 cup corn syrup, and hot water.
Brong to a boil over medium heat, stirring constantly until candy thermometer reads 238°F.
Remove from heat; stir in remaining corn syrup.
Pour into large mixing bowl.
Add reserved gelatin, 1 tablespoon at a time, beating on high speed until candy is thick and has cooled to lukewarm.
Beat in vanilla.
Spoon mixture into egg depressions; dust with flour.
Let stand 3-4 hours or until set.
Remove marshmallow eggs from flour, and dust off any excess flour.
Dip into melted dark chocolate candy coating.
Place flat side down on wax paper.
Let stand until set.
Pour white candy coating into a heavy-duty resealable plastic bag.
Cut a small hole in the bottom corner.
Drizzle over eggs.