Chocolate Covered Malt Ball Fudge Slice
JustJanS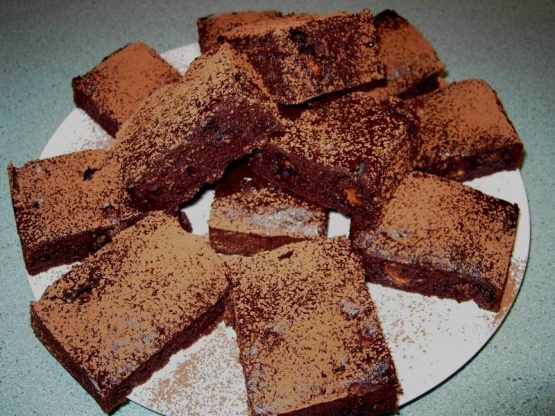 The beautiful Anna, a barmaid at work, brought these in to share, and everyone demanded the recipe. We call the chocolate covered malt balls Maltesers, but the 'zaar computer didn't know that name. A tin about 10 X 8 inches that you would use to bake a bar or slice is perfect for this. I have found a 9X9 inch cake pan works OK too.

Top Review by ImPat
Jan and Anna the DS's music recreation group love you. This went to the top of their list of favourites. I made 2 in 9"x9" (23cmx23cm) cake tins and cooked in a fan forced oven at 175c for 25 minutes (could do with turning down to 170). I used a creamy vanilla yoghurt not low-fat. I dusted 1 with icing sugar and the other with cocoa powder. Thanks once again Jan and Anna. Made for Edition 4 - Make My Recipe - a game of tag.
Preheat the oven to 180°C.
Coat a lamington tin with cooking spray.
Sift the flour and cocoa powder into a large bowl.
Stir in the chocolate covered malt balls (Maltesers).
Combine the eggs, sugar, oil and yogurt and fold into the flour mixture.
Spread into the prepared tin and bake for 30 minutes or until firm to touch.
Cool in the pan.
Cut into 16 pieces.
Dust with icing sugar or cocoa.