Chocolate Covered Cranberries
Redsie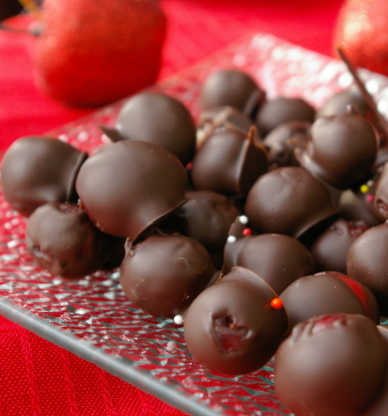 In my quest for cranberry recipes, I came across this little gem. Try it, you'll like it! From the Wisconsin State Cranberry Growers Association. This fits into the Mid West, New England and Canadian regions.

Great fun Sharon! I had a hard time keeping daughter #3 out of these. I had been dipping other foods, and had some chocolate left so tried this, and am glad that I did. I didn't bother with the toothpick, just threw some fresh berries into the melted chocolate, then fished them out - one by one - with my dipping fork. It was easy, pretty and a fun addition to all the other sweets.
Melt chocolate chips and shortening over low heat, stirring frequently until melted.
Dip cranberries in chocolate with toothpick until coated.
Place on wax paper.
Refrigerate until firm.
Enjoy!