Chocolate Cookies - Fannie Farmer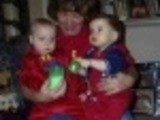 Many years ago this recipe was given to me as a recipe that was one of (or like)Fannie Farmer's chocolate cookies. My recent research shows that Fannie Farmer lived and published a cookbook in the late 1800's. I have never seen one of her cookbooks though her recipes remain popular.
Directions
Cream shortening, gradually adding the sugar, creaming well.
Beat in the egg, chocolate, milk, vanilla and salt.
Gently, but thoroughly, stir in the flour.
Put through a cookie press or drop by level teaspoon fulls, 1 inch apart on ungreased cookie sheets.
Bake at 375 degrees for about 8 minutes.
Most Helpful
I have also made these for years, but misplaced the cookbook as we started cooking vegan. Now that pasture eggs are available at farmer's markets, I will make these cookies again. Thank you so much for reprinting the recipe. These are my daughter's favorite cookies. It's all in the chocolate and vanilla, so try different types of vanilla and chocolate until you find ones that taste the best to you. Also, do not substitute any other fat for the shortening (we use a vegan palm oil shortening) as butter/margarine/coconut oil detracts from the simple yet intense flavor of the cookie. There is really nothing like it!
These are very good. I ate 3 right after I took them out of the oven.
These are great! I've been making them for better than 50 years. A bit of back ground. Fanny Farmer founded The Boston School of Cooking as well as writing the best basic cookbook of American cooking. Prior to her, cookbooks called for a pinch of this, a handful of that, and some of the other. She standardized all of the measurements we use in the kitchen. If you want one of her books try www.abebooks.com This is a clearing house for book shops the world over. The site is very user friendly but one must be careful it's easy to loose oneself and it's even easier to destroy ones budget. A few years ago I bought my latest copy, through them from a shop in Seattle. It was printed in 1962 and only cost a few dollars. I am very happily wearing it out.