Chocolate Coconut Squares
J-Boston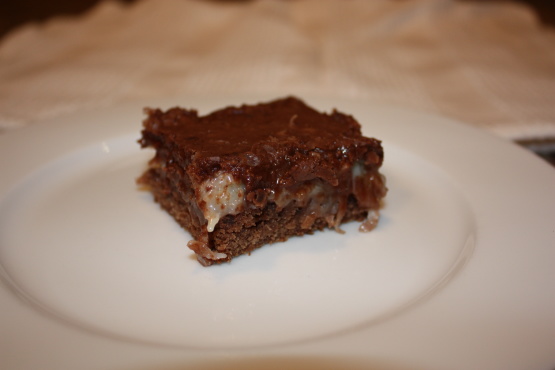 These very rich and delicious layered bars are a big hit whenever I take them to a potluck or family gathering.

Inez, somehow I knew just by reading these ingredients and seeing your name attached to it that this recipe would be a winner! I wasn't disappointed! Truly easy and incredibly delicious! I made this recipe exactly as directed and it came out wonderfully! I wouldn't change a thing. It's a keeper, Inez! Thanks, once again for a truly remarkable recipe!
Cream butter and sugar; add eggs and vanilla.
Mix flour, cocoa, and nuts.
Add to sugar mixture.
Spread into 9x13 pan.
Bake at 350* for 30 minutes.
Combine condensed milk and coconut.
Spread over cake, bake 15 minutes more.
Mix frosting ingredients until smooth.
Spread over the coconut while still warm.
Chill.
Cut into bars.