Chocolate Coconut Snowballs
Karen..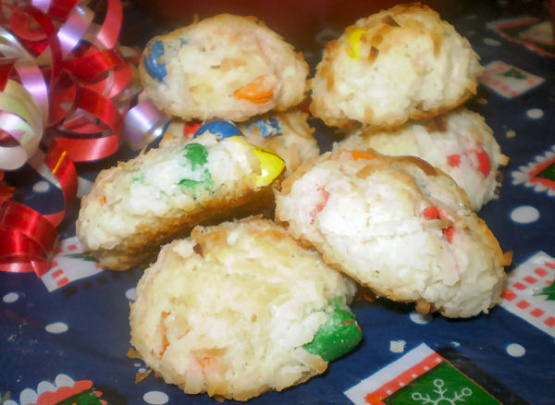 This recipe is from the back of an old bag of "M & M's" Semi-Sweet Chocolate Baking Bits. I am glad I saved it, because these are great cookies and the recipe is no longer available, even on their website. This recipe is one of thirty or so varieties that I make every Christmas and it is always a favorite. *Added 12/30/07: I don't add the M & M baking bits AFTER the dough is refrigerated. I never understood why that was necessary and since I stopped doing it I've noticed no difference. I couldn't find the M & M's this year, so used a 10 oz. bag of Hershey Kissables and they came out just as good.* --K

I can't say exactly, they looked so good, I got started, and discovered that my almond flavor was DRY, so I used vanilla. Then I discovered my chocolate chips were butterscotch! However, they turned out just great, as Butterscotch, Coconut Snowballs!
1⁄3 cup butter

3

ounces cream cheese, softened
3⁄4 cup sugar

1

egg yolk

2

teaspoons almond extract

2

teaspoons orange juice
1 1⁄4 cups flour

2

teaspoons baking powder
1⁄4 teaspoon salt

1

(14 ounce) package coconut, divided

1

(12 ounce) package M&M's semi-sweet chocolate baking bits
In large bowl, cream butter, cream cheese and sugar.
Add egg yolk, almond extract and orange juice, beat well.
Combine flour, baking powder and salt and gradually add to creamed mixture.
Stir in 3 CUPS of the coconut.
Cover and chill for an hour.
Preheat oven to 350 degrees.
Stir M& M's Baking Bits into dough.
Shape dough into 1" balls and roll each in remaining coconut.
Place on ungreased cookie sheets and bake for 10-12 minutes or until light brown.