Tisme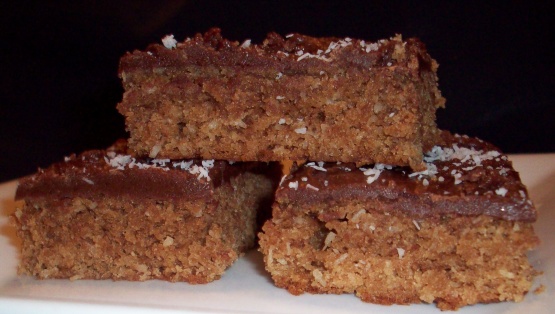 A crowd pleaser to fill up the baking tins. From Super Food Ideas magazine, June 2012

Top Review by Tisme
I make a similar slice which this family loves, although the base is crisper on my recipe, the base on this slice was a little softer we all loved this slice as well.<br/>I followed the recipe exactly and these turned out fantastic. I don't think you could muck up this recipe if you tried!<br/>So easy to make, and I didn't have to get out the beater's...all done by hand, which is great for the washing up!<br/>Great tasting slice which this family demolished so quickly!<br/>Thanks for posting Kiwi Kathy, will be making these again.
Preheat oven to 180 degrees Celsius Grease a 20cm x 30cm lamington pan. Line with baking paper extending 2cm from edge of pan at long ends.
Place butter, brown sugar, egg and vanilla in a large bowl. Stir until well combined. Sift over flours and cocoa. Add 1/2 cup cocounut. Stir to combine. Spread mixture into prepared pan. Bake 25 - 30 minutes or until firm to touch.
Make Chocolate Icing: Sift icing sugar and cocoa into a medium heat proof bowl. Add butter and boiling water. Stir until smooth.
Spreas hot slice with icing. Sprinkle with remaining coconut. Set aside to cool completely in pan. Cut into pieces and serve.