Annie H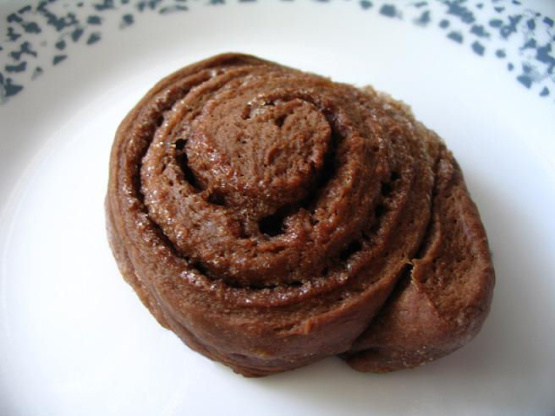 A delicious, different cinnamon roll recipe.

This was the first time I've ever made cinnamon rolls and they turned out pretty good. For the filling, I used chopped almonds and pecans and added about a tablespoon of cocoa to the sugar, cinnamon mixture. For the frosting, I mixed 3 oz cream cheese, 1 cup powdered sugar, 2 Tbls orange juice and 1/2 a cup of mini-chocolate chips. What a hit! It did take a little longer, the first rising took about 2 hours, but that might have been the yeast, or it may have been too cool.
In medium bowl,dissolve yeast in water.
Stir in shortening, salt, sugar, egg, cocoa, and 1 cup flour.
Beat 2 minutes on medium speed of mixer, or 300 vigorous strokes by hand.
Scrape side of bowl, stir in remaining flour; blend well.
Cover and let rise in warm place until double (about 1 hour). Stir dough down by beating 25 strokes.
Turn soft dough into well floured surface; roll into 8x12-inch rectangle.
Spread with softened butter and sprinkle with cinnamon-sugar mixture.
Roll up beginning with wide edge.
Pinch edges together.
Cut into 12 pieces.
Place in greased 9x13-inch pan.
Let rise until doubled (about 40 minutes) Bake at 375°F for 25 minutes.
Combine icing ingredients, adding enough cream for good spreading consistency.
Spread on rolls immediately and then sprinkle with nuts if desired.
Serve warm.
Can also use favorite cream cheese icing to frost.