Chocolate-Cinnamon Meringues
Brenda.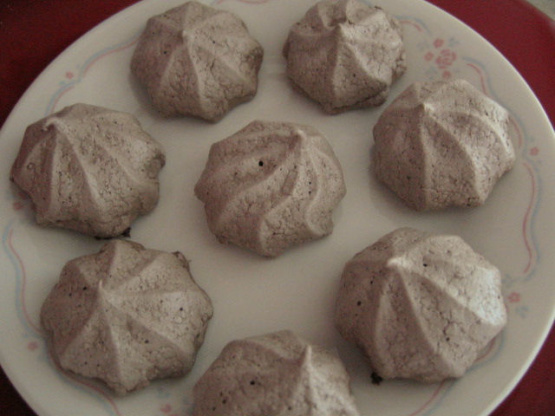 I haven't prepared this recipe yet, but it's on my list to try! The recipe didn't come with information about how much it makes, so I'm only guessing at 36 meringues.

This recipe didn't work so well for me. Everything seemed to be going fine when I put them in the oven (the batter tasted and looked so good, it was all I could do to keep myself from eating it there and then!) but they didn't bake up very well. They lost their stiffness in the oven and even after an hour of cooking were still gooey in the centre -- not solid throughout a hard meringue should be.
Sift together sugar and cocoa powder.
In a large bowl, beat the egg whites, cinnamon, and cream of tartar with an electric mixer on medium speed until it forms soft peaks.
Beat in the sugar mixture one tablespoon at a time.
Beat the entire mixture on high until it's glossy and stiff.
Line two baking sheets with parchment paper.
Drop by rounded teaspoonfuls of batter onto the sheets, leaving 1-inch between.
Bake at 250 degrees F for 40 to 45 minutes, or until the tops feel dry to the touch.
Cool 5 minutes, then remove from parchment paper.