DustyFox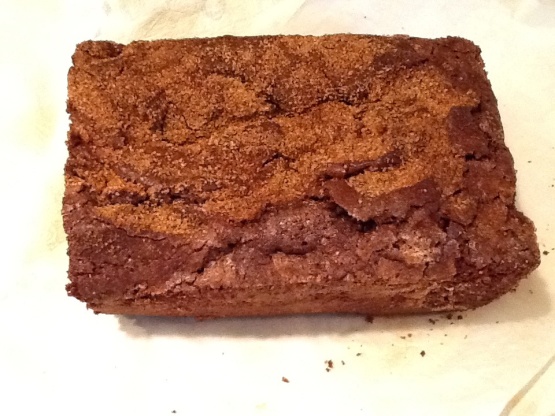 From world-famous chef Marcus Samuelsson for Starbucks. DELICIOUS blend of flavors.

Moist and tasty. Love this bread. I made a loaf with my grandson helping me and it turned out great. He doesn't like cake, but loved ths bread. Thee chocolate and cinnamon go well together. I took the advice of someone else and turned it out onto parchment paper then flipped it over on a cake rack to cool.
Preheat oven to 350°F Grease two 9 x 5 x 3-inch loaf pans and line bottom of pans with parchment paper.
Chocolate Batter: in bowl of electric mixer, cream together butter and sugar with paddle attachment on medium speed, until light and creamy about 5 minutes.
Beat in eggs, one at a time, beating until each egg is completely incorporated before adding the next and scraping down sides of bowl several times.
Meanwhile, in medium bowl, sift together flour, cocoa, cinnamon, salt, baking powder and baking soda.
In another bowl, whisk together buttermilk, water and vanilla.
With mixer on low speed, alternately add flour mixture and buttermilk mixture to butter, beginning and ending with flour and beating just until blended.
Divide batter between the two pans, shake pans to even tops and set aside.
Cocoa Spice Sugar Crust: in another small bowl, whisk together sugar, cinnamon, cocoa, ginger and cloves.
Sprinkle surfaces of both batters with decorating sugar.
Sprinkle with cocoa sugar mixture, dividing evenly.
Bake until toothpick inserted in center comes out clean, about 45 to 50 minutes.
Let cool completely, run thin knife around sides to release breads and remove from pans.