Ms.WU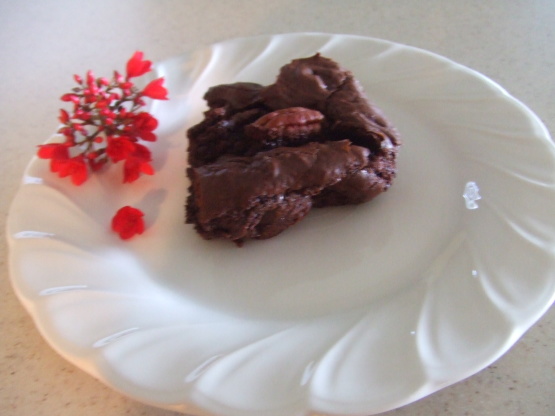 I got this recipe from cookbook that I rented from the library over 3 years ago... I really wish I had written down that cookbook's title because it had some awesome recipes, in fact I have some more recipe to save on the zaar from that exact same book. Hope you enjoy.

I really enjoyed these brownies! They were super moist and chocolate-y! I still have some leftover, but it tasted better when coming straight out of the oven and still on the warm side.
Preheat oven to 350°F.
Coarsely chop 7 oz of the chocolate. In a large sauce pan over medium heat combine butter, sugar and 2 tablespoons of water until butter is melted and sugar dissolved; remove from heat and stir in the 7 oz of chocolate until melted. Let the chocolate mixture cool and stir in vanilla and egg mixing well.
In a large bowl whisk together flour, baking soda and salt. Slowly stir the flour mixture into the chocolate mixture until well combined.
Chop the remaining 4 oz chocolate into 1/4-inch chunks. Stir in the chocolate chunks and nuts into the rest of the batter. Pour batter into a 9x9 square baking dish and bake for 22-27 minutes.