Chocolate Chocolate Peppermint Biscotti
Marz7215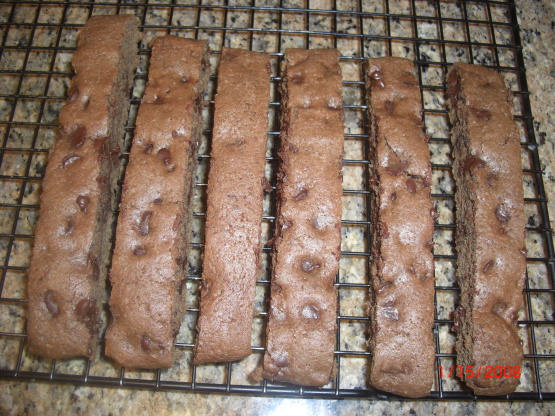 This delicious biscotti is one of my family's favorite evening treat :o) !!!

Top Review by JJ2011
OMG, these are so good! I think they taste better with mini chocolate chips (more evenly dispersed), and with white chocolate (with about a tsp of oil and 1/4-1/2 tsp peppermint extract) on the top. It's even better with crushed candy canes on the white chocolate!
In a large mixing bowl, beat butter, sugar and eggs on med. speed for 1 minute.
Add vanilla, espresso coffee and peppermint extract ( or oil ). Beat until combined.
Add chocolate chips.
Stir in combined flour, salt and baking powder.
Shape the dough in a 16-inch long log on a parchment paper lined cookie sheet.
Flatten the log until about 2-inches thick.
Bake the log for 25 minutes in a 350°F preheated oven.
Cool for 20 minutes.
Transfer the log to a cutting board and using a serrated knife, cut into 1-inch thick slices.
Bake slices in a 325°F oven for 15 minutes ( I usually turn off the oven and let them cool in ).
Transfer to wire rack and drizzle melted milk chocolate over them, if desired.
Store in an airtight container at room temperature for up to 4 weeks.