Chocolate! Chocolate! Chocolate! Bundt Cake With Chocolate Glaze
Wildflour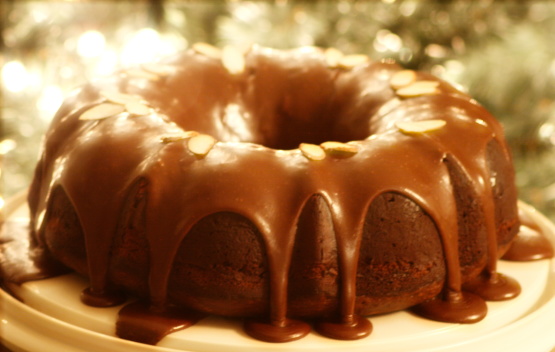 Need I say more...CHOCOLATE! Decadently rich and moist. Add a scoop of vanilla ice cream and you're in Heaven.

Totally yummy cake! I made this for a co-worker's birthday, and had lots of compliments. I added some finely chopped pecans just on top of the frosting. This cake was so good & easy, and I like the fact that there's no oil in it. I am making it again this weekend for family, and will keep this recipe handy, 'cuz I'm sure I'll be making it over & over! Thanks for posting a great recipe. -M
Cake: Preheat oven to 350°.
Grease and flour bundt pan, set aside.
In large mixing bowl, combine cake mix, pudding mix and chocolate chips.
In another bowl, combine water, eggs, and vanilla mixing well.
Add egg mixture to dry mixture and mix with spoon until just blended.
Pour into prepared pan.
Bake for 50 to 55 minutes or until cake tests done when wooden pick in center comes out clean.
Cool 15 to 20 minutes before removing cake from pan.
When completely cool, drizzle cake with Chocolate Glaze.
Chocolate Glaze: Combine all ingredients in bowl.
Mix with spoon until smooth.