Chocolate Chocolate Chip Cookies
Boomette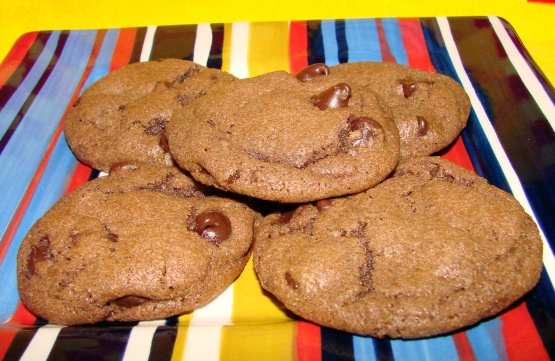 I make the dough up for these and scoop them out onto a parchment lined baking sheet and freeze them for 30 minutes. Then place the balls in a freezer bag. My husband bakes them up a couple at a time when he wants a chocolate fix.

Top Review by Leslie
These cookies are terrific! We loved them and I'm embarrassed to say we ate almost an entire batch since last night. :oops: Well, some went in my daughter's lunch to School at least. This recipe produces a nice soft and chewy cookie. I omitted the nuts because of a nut free policy at my DD's School, and I did make them a little larger and cooked for 3 min longer. Delicious! I can't wait to try the freezer method and have freshly baked cookies at the drop of a hat! Thanks for posting! Made for PAC :)
Combine flour, cocoa powder, salt and baking soda in a bowl and set aside.
Combine brown sugar, white sugar, softened butter, Crisco shortening and vanilla.
Beat until creamy. (I use my stand mixer-it's much easier).
Add eggs and beat.
Add dry ingredients and mix well.
Stir in your chocolate chips and nuts (if using) at this point.
Using small cookie scooper, scoop balls out onto parchment lined baking sheet.
Put baking sheet in freezer for 30 minutes.
At this point you can put all the balls in a freezer bag for later use.
When you want to make some cookies, pre-heat oven or good toaster oven to 375°. Bake 8-10 minutes. I go 8 in my oven so they stay soft and gooey.
Let cool 2 minutes on pan, then cool on rack.