Chocolate Chocolate-Chip Cake
LinLP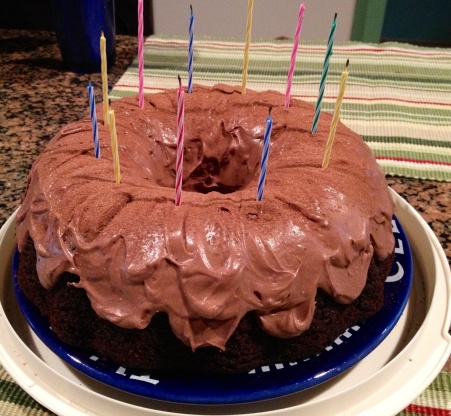 A luscious, luxurious, sinfully rich chocolate lover's dream from our local paper.

This cake really satisfied my chocaholic sweet tooth! Athough I made a couple errors, it was a GREAT cake. First mistake, I used a dark chocolate mix w/pudding. I didn't notice this until it was too late. My pudding boxes were about 3 oz each (not 6 oz). The batter was very thick and needed about 60 min of baking time. Otherwise, I made it as written. It couldn't be better at satisfying the need for a chocolate fix. I dusted w/confex sugar and served warm with Cool Whip. Would be perfect for a bake sale. Loved it. Thanks for sharing!
Preheat oven to 350.
Grease a 12 cup bundt pan.
In a large bowl, mix cake and pudding mixes, sour cream, oil, eggs and water.
Stir in chocolate chips and pour batter into prepared pan.
Bake for 50 to 55 minutes; tip out onto cooling rack when done.
Serve plain, sprinkled with confectioner's sugar or drizzled with warm icing.