Chocolate Chip Walnut Cookies
Diana 2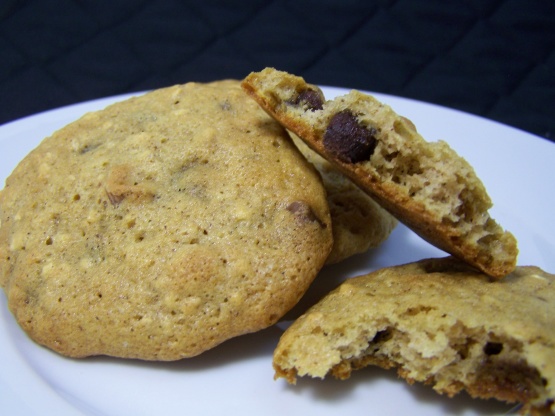 had a hard time coming with a title for the recipe. I didn't want to just call it chocolate chip cookies, because there's so many of those titles around here and on other websites. There is milk and rolled oats in the recipe, and that's what I think makes them a bit on the healthy side. I used regular milk for these guys.

These cookies were more cakey in texture than than chewy texture I like in cookies. Maybe with some tweaking like leaving out the milk and adding more butter and oats would make the texture work better for our tastes. I did like the cinnamon and chocolate pairing in them, but I felt that they still could have used a flavor boost, like almond or vanilla extract. Thanks, and good luck in the contest.
Preheat oven to 375 degrees F.
In a large bowl, cream together the butter or margerine with both sugars. Add eggs one at a time, beating each one into the mixture.
In a separate bowl mix the dry ingredients together. Add the dry ingredients alternately with the milk. You should be able to start and finish with the dry ingredients.
Add chocolate chips to the batter.
Put heaping spoonfulls on an ungreased cookie sheet. Bake for 10 minutes. Let cool for 5 minutes. Enjoy.