Chocolate Chip Vanilla Gems
diner524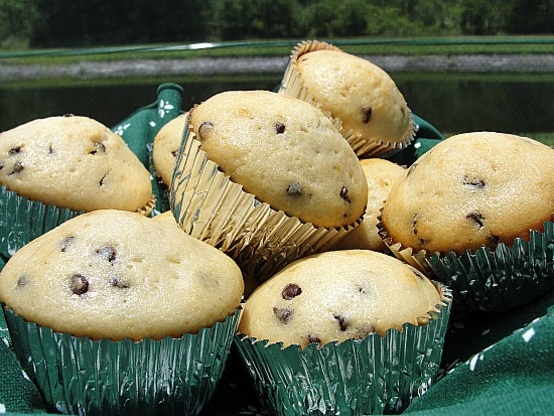 These are a tasty morsel of a muffin, that's great with a cup of coffee or a glass of milk. My preference is to leave out the chips, but my kid's wouldn't have them any other way. The small size brings out the intensity of the vanilla. Use the batter with out the chocolate as a base for a delicious regular sized berry muffin.

I thought these were good, if perhaps a little bland. I may try sprinkling the tops with some sugar next time, or even a crumb topping. My yield was 24 mini-muffins and 2 medium sized! They were super easy to make, and were done very quickly - 15 minutes. Thanks for sharing, momaphet. Made for ZWT.
Pre heat oven to 400 degrees.
Grease 24 mini muffin pan.
Stir together in a mixing bowl all the dry ingredients and the chocolate chips.
Make a well in the flour mix and set aside.
In another bowl whisk together all the wet ingredients and pour into the well in the flour mix, stirring together gently until all the flour is mixed inches
Don't over mix there will be some lumps.
Spoon batter into muffin pan filling to the top.
Bake 15 - 18 minutes, or until top just begin to get golden.
Note: quantities will vary based on the size of muffin pan, there are many different sized mini muffin pans, if they are larger, don't fill all the way to the top.