Chocolate Chip Toffee Cookies
PCrocker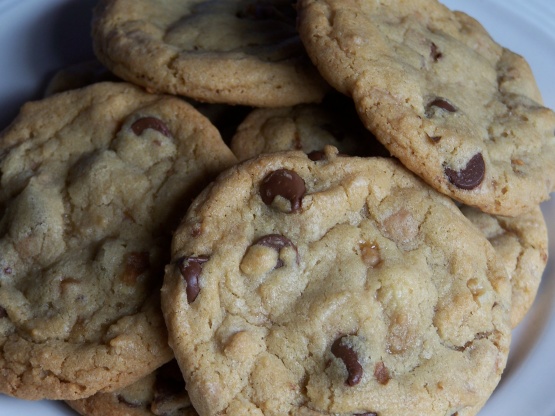 This chewy chocolate chip cookie is a favorite in our house.

These are so, so good. Love the toffee (which I put in most of my cookies) and the hint of the Kahlua. they were nice and chewy the way we like them and were easy to make. This is one of my favorite cookies at this time and one I'll make many times again. Thanks for sharing.
Sift flour, baking soda, and salt together; set aside.
Place butter and brown sugar in bowl of electric mixer and beat until light and fluffy.
Scrape down sides of bowl.
Add eggs, vanilla, and Kahlua and beat until well combined.
Scrape down sides of bowl again.
Add flour mixture to mixer bowl and stir on low speed just until combined.
Add walnuts, toffee bits, and chocolate chips and mix on low speed just until combined.
Drop by tablespoons onto parchment paper-lined baking sheets about 2 inches apart.
Bake in 350 degree oven for about 10 minutes or until very lightly brown (don't overcook).
Remove cookies from oven and cool 2 minutes on baking sheet before removing to cooling rack.