Chocolate Chip Strawberry Shortcakes
diner524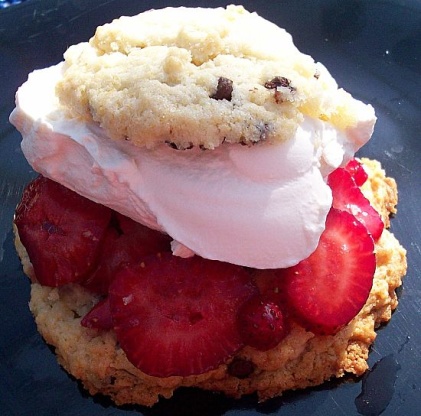 From Simple & Delicious May/June 2008 (funny as it is April now). These are a very simple shortcake to put together to serve with strawberries for the spring season. This could be used as a shortcake for any fruit dessert but I love strawberries. I also love it because they are a drop shortcake and not one where you need to roll it out and cut - so it puts together very quickly. (The cooking time does not include any time for cooling - approximately another 30-45 minutes for the shortcakes to cool enough before slicing. The Prep time includes extra time needed to prepare your own Sweetened Whipped Cream)

This was just plain good. It was simple to make but tasted like you spent hours making these. Thanks for the great awesome recipe. I will be making this again.
In a small bowl, combine the strawberries and 1/4 c sugar; cover and refrigerate until serving (this will create its own nice juices for serving).
In a large bowl, combine the flour, 2 tbls sugar, baking powder and salt.
In a small bowl, combine the whipping cream and 1/2 c butter.
Stir the cream mixture into the flour mixture, just until a thick batter forms; then gently stir in the chocolate chips just till mixed inches.
Drop by 1/3 cupfuls onto a greased baking sheet.
Brush tops with the 1 tbls melted butter and sprinkle evenly with the extra 1 tbls sugar.
Bake at 375F for 18-20 minutes or just until golden brown.
Remove to wire rack to cool completely.
Cut biscuits in half horizontally and spoon strawberries onto bottom half then top with whipped cream (if using) and replace shortcake tops.
WHIPPED CREAM (instructions) - In a "chilled" small glass bowl and using "chilled" beaters, beat cream until it begins to thicken. Add confectioner's sugar and extract then beat until soft peaks form. Store in the refrigerator until prepared to use. (Makes 2 cups of whipped cream).