Chocolate Chip Sour Cream Pancakes, Diabetic
Debbwl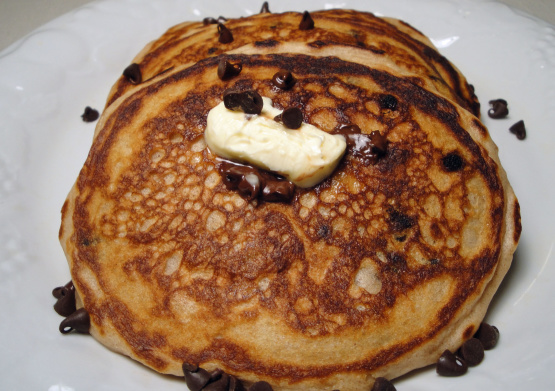 The last time I went shopping there was a terrific price on sour cream so I grabbed 2 BIG containers. I'm currently putting sour cream in everything I can think of! I'm the first to admit that this wouldn't be a daily thing but for a special breakfast (Valentines, Mothers Day?) it isn't going to break the diabetic bank

My son loved these. The only item that confused me was the serving size. How many pancakes make a serving?
Sift the flour, sugar, baking powder, baking soda, and salt into a medium-size mixing bowl.
In a separate bowl, whisk the eggs until foamy, then whisk in the milk, sour cream, melted butter, and vanilla. Make a well in the dry ingredients, add the liquids, and whisk briefly, just until the batter is blended.
Let rest 2 minutes.
Fold in the chocolate chips and set aside for several minutes while you preheat a griddle or skillet.
Heat an electric griddle (you can also use a pan or 2 on the stove top but it takes a lot longer because you have to do fewer at a time)let preheat for 3 to 4 minutes.
Spray griddle with PAM.
Using about 1/3 cup batter per pancake, ladle the batter onto the hot skillet.
Cook about 1 1/2 minutes on the first side, until the bubbles on top are starting to pop, then flip and cook about 1 minute on the second side.
Repeat for remaining batter.
Top with no sugar added syrup if desired.