Boomette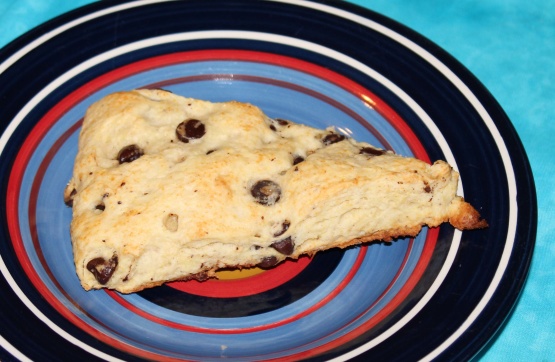 Just found this scrumptious recipe on a newsgroup online. Sounds good, and I can't wait to try it!
I made these scones mostly for DH because he likes chocolate chip scones. But I still like them :) It was easy to do. I used the food processor to mix the dry ingredients and the cold butter. They have a great texture. DH likes them a lot. Thanks KitchenCraftsnMore :) Made for Name that ingredient tag game
Heat oven to 425.
Lightly grease a large baking sheet.
In a large bowl,combine the flour, baking powder, salt, baking soda, and 2 tablespoons of the sugar.
With a pastry blender or 2 knives, cut in the butter until the mixture resembles coarse crumbs.
Mix in the chocolate chips with a fork.
In a cup, beat together the buttermilk and egg, then add them to the flour mixture.
Mix lightly with a fork until the mixture clings together and forms a ball of soft dough.
Turn the dough onto a lightly floured surface.
and knead gently, turning 5 or 6 times.
With a floured rolling pin, roll the dough into a 1/2-inch thick circle.
Slice into 12 triangular pieces.
Lightly brush the tops of the scones with milk and sprinkle with remaining sugar.
Bake the scones 10 to 12 minutes or until they are golden brown.