Chocolate Chip Rum Raisin Scones
twissis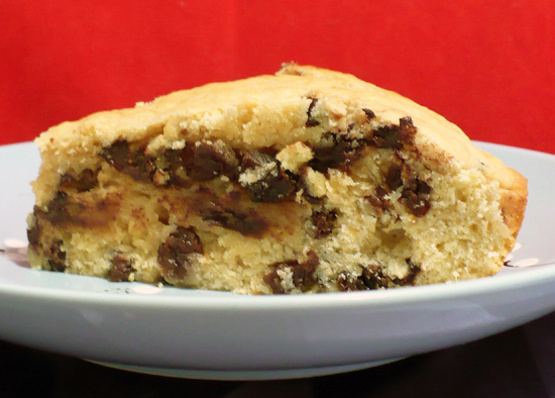 This wonderful combination of chocolate, raisins, and rum, makes these scones not only delicious, but also so attractive to look at. Makes 8 jumbo scones or 12 average size scones.

Yummy scones, Annacia! I made a full recipe as written, but halved & plumped the raisins in the rum as we discussed & made them in a deep 10-in rd baking dish vs the drop method. This did require a full 15 min baking time at 160 C after the initial 12 min at 180 C. The rum flavor was barely present when 1st eaten warm from the oven & I preferred them at rm temp as that flavor was more prominent when the choc had cooled. They have a perfect level of sweetness & the texture is more cake-like than a typical scone. Your stated yield appears to be right on & I am freezing 4 of them for an afternoon coffee next weekend to see how well that works. Thx for sharing this great recipe w/us. Loved them! :-)
In a large bowl, mix flour, baking powder and salt, and set aside.
Line a cookie sheet with parchment paper.
With an electric mixer on medium-low speed, beat butter until creamy.
Add sugar and beat 3 to 5 minutes until pale and fluffy.
Add eggs one at a time, beating well after each addition.
Scrape down sides of bowl and reduce speed to low.
Add flour mixture-mix only until blended. Scrape down sides of bowl again.
Add buttermilk or cream (or yogurt, if using) and mix only until blended.
Add vanilla and rum, and stir in chocolate chips.
Fold in raisins.
Using ice cream scoop, scoop 1/3 cupfuls of dough onto parchment lined cookie sheet 2 inches apart.
Bake 12 minutes at 350°F (180°C) then reduce to 325°F (160°C) and bake 10-13 minutes longer.
Watch them closely, you only want them a pale color.
Note: If desired, you can freeze the scoopfuls of dough until ready to bake.