Chocolate Chip Pie With Bourbon Whipped Cream
ChefLee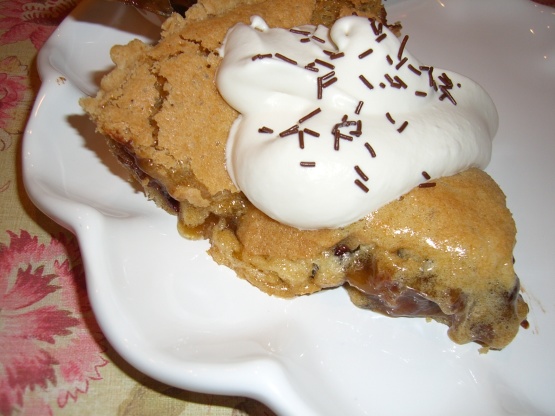 A traditional Kentucky Derby dessert for your Derby Day parties or just anytime.

I'm giving this 5 stars because it was good, but it was soooooooo sweet!! Great for kids or those who don't think they can get enough sugar, or maybe as a remedy for PMS--but for me a little overwhelming.
Spread chopped nuts over the bottom of the prepared (unbaked) pie shell; sprinkle with chocolate morsels.
In a small mixing bowl, whisk eggs.
Whisk in sugars, butter, flour, salt, vanilla, and bourbon (if desired).
Pour batter evenly over nuts and chocolate chips.
Bake in a 325° oven for 35 to 40 minutes.
To prepare whipped topping, for best results, chill bowl and beaters.
Beat cream until thickened; add sugar and flavoring, then beat until soft peaks form.
Cover and refrigerate until ready to use.