Chocolate Chip Peanut Butter Oat Cookies
Kelsey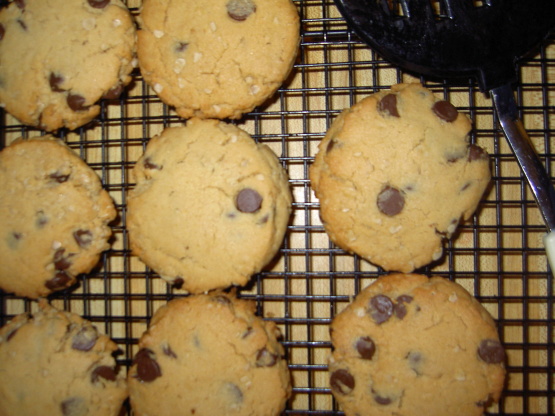 I got this recipe from the inside lid of a metal box that had pictures of Walt Disney World and Beauty and the Beast and 2 12 oz. packages of Nestles chocolate chips inside more than 5 years ago. When I first saw the recipe, I wasn't sure I would like it as it has oatmeal in it. Well my daughter made them when I wasn't home and I was so glad she did because they were soooo delicious, rich, and yummy. I am posting this to share and for safe keeping.

I made these cookies today and they are delicious. I think they are very moist; they didn't get dry on me as a lot of peanut butter cookies have. I used crunchy peanut butter because that's what I had. I love the "random recipe" feature, I've found some wonderful recipes with it, including these cookies. Thanks for sharing!
Preheat oven to 350 F.
Combine flour and baking soda in a bowl.
Beat butter, peanut butter, sugars, and vanilla in a large mixing bowl until creamy.
Beat in eggs; beat in flour mixture.
Stir in oats and chocolate chips.
Drop by mounded tablespoons onto a ungreased cookie sheet about 3 inches apart then bake for 10 to 15 mins.
or until they are light brown.
Let stand on cookie sheets 3 minutes then remove to wire racks to cool.