Chocolate Chip Oatmeal Cookies
Derf2440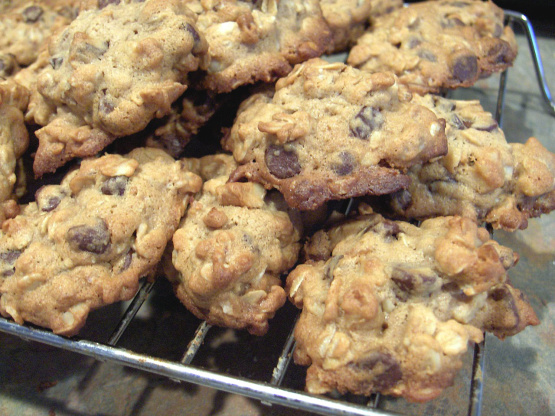 These cookies are so good! I found the recipe in the Texas Country Reporter Cookbook!

Top Review by Roosie
Oh my god- SUPER YUM!!! My boyfriend and I adore these. I made them bigger than recommended (I came out with 3 dozen cookies about 3" in diameter) just because we're not big fans of teeny chocolate chip cookies. I also used butter instead of Crisco-type shortening as we try to avoid the partially hydrogenated oils and walnuts instead of pecans, just because they were about $3 cheaper at the store. But, YUM YUM YUM!!! I would definitely give this 10 stars if I could. These cookies are beautiful little oatmeal cookies, super chewy and yum-tastic on the inside! I think that I now prefer this recipe over any other chocolate chip recipe I've ever had (or oatmeal chocolate chip, which I made before, but they came out flatter and crispier and no where near asa good)! The oats add a healthier touch to the cookies and make them feel much more filling- my boyfriend and I split 2 between us last night and were just full of yummy cookies with only 2! The only other change I made was, in my oven, I cooked them at 350*F, as they were a little too brown and a little too gooey at 375*F. Thanks so much for posting this- I'll definitely be making it again!
Preheat oven to 375°F.
Sift together flour, soda and salt.
In a separate bowl, cream together shortening and sugars; add eggs, one at a time, beating well after each addition.
Stir in hot water, vanilla and flour mixture.
Add remaining ingredients; mix well.
Drop from a teaspoon onto parchment-lined baking sheet.
Bake at 375°F for 8-10 minutes.