Chocolate Chip Oatmeal Cookies
Prep 25 mins
Cook 10 mins

This a recipe I ran across in an old Consumers Reports magazine. Everybody loves these cookies.
Directions
Preheat oven to 350°F.
Combine flour, salt and baking soda, set aside.
Beat together shortening, sugars and vanilla until creamy.
Add eggs until batter is light and fluffy.
Gradually beat in flour mixture and rolled oats.
Stir in chocolate chips.
Drop batter by well rounded spoonfuls onto cookie sheets (parchment paper lined sheets make cleanup easy).
Bake 8 to 10 minutes.
Cool cookies on sheets for 2 minutes before transferring to wire racks.
Yield is supposed to be 7 1/2 dozen cookies.
Most Helpful
Made a batch of these yesterday and they turned out great!!! Didn't make any changes to the receipe however I did put the batter in the fridge for 20 minutes or so before spooning out onto the waxed paper lined pan. Because the batter was cold I bumped the time up to 13-14 minutes and that was perfect for me, nice and chewy. I used milk chocolate chips this time and plan to go with semi-sweet next time to compare. Don't see how they could be any better though !! Think that I'll put some in the freezer right now just to keep from eating them all today !!!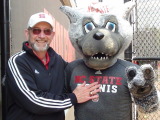 I made these yesterday with my two-year old daughter and in her words "mmm yum, yum." ABSOLUTELY FABULOUS RECEIPE. Simple, tasty, and will now be our go-to cookie for chocolate chip oatmeal! The only difference I did was I used a stick of butter flavor Crisco (1 cup) instead of the recommended shortening. The calories were the same. Highly recommended
What a great cookie!! The suggestion to use parchment paper was genius.