Chocolate Chip Oatmeal Bars
flower7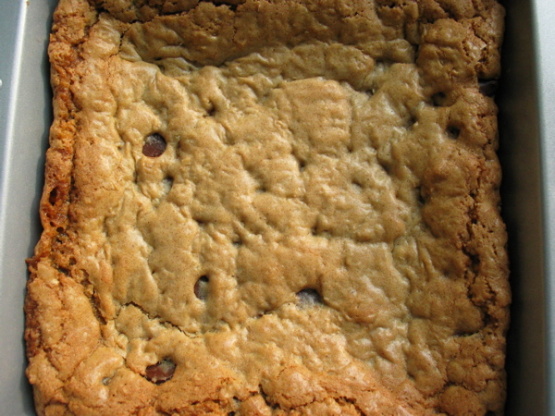 Chewy cookie bars with oatmeal and lots of chocolate chips.
This recipe is freaking good. first time doing it and it's divine, not a joke. But reading the recipe i knew it will be sweet so i reduce the sugar to 1/4 white and 3/4 brown but next time i'll try 2 cups of brown sugar so there is a bit more balance. but over all, the best recipe i've tried *it so good that this my first time writing a review for a recipe
Preheat oven to 350 degrees with the rack in the middle position.
Melt the butter in a large microwave safe bowl.
Add the brown and white sugars and let cool a bit.
Add egg, baking powder, baking soda, salt, cinnamon, nutmeg, and vanilla.
Add flour and mix. Then add the chocolate chips and oats and mix everything up. The dough will be quite stiff.
With a spatula spread dough evenly into a greased 8x8 baking pan.
Bake at 350 for 25– 30 minutes.
Cut into bars when cool.