Chocolate Chip Oaties (Cookies)
Nif_H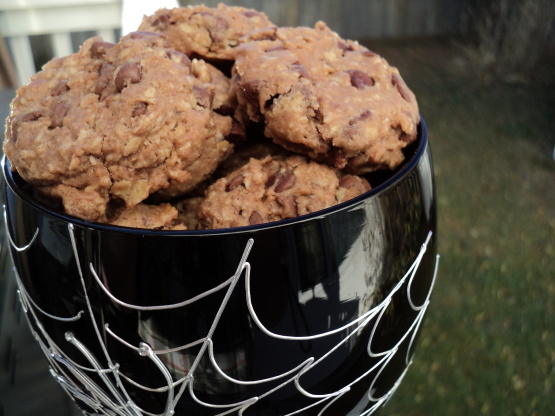 From a British cookbook of all chocolate recipes. Yum! The original recipe called for half semi-sweet and half milk chocolate. I don't usually keep milk chocolate on hand so use all semi-sweet and I don't think I'll ever try them with milk chocolate - the richness of the semi-sweet is so good. A mixture of chocolate chunks and chips is a nice variation instead of just chips.

Top Review by Nif_H
These chocolatey goodies are great! I used semi-sweet chocolate chips and quick cooking oats. The only thing I would do differently is to let them cool on the cookie sheet for a few minutes, as you instructed, because they are a little crumbly if you move them too soon. Made for my adopted chef for Fall PAC 2011. Thanks flower7! :)
Preheat oven to 350°F.
Beat butter and sugar together in a mixing bowl until light and fluffy.
Beat in the egg, then milk and vanilla until well blended.
Add oats and mix, then add flour, cocoa and baking powder. Mix until everything is well blended.
Stir in chocolate.
Line two baking sheets with parchment paper (or grease lightly).
Scoop out dough in large gobs (about 1 1/4-1 3/8 oz each) and flatten slightly with a fork (dip fork in flour to prevent sticking).
Bake for 15 minutes or until cookies are slightly risen and firm.
Let cool on baking sheets for a few minutes then remove to wire racks to cool completely.