Chocolate Chip Oat Cookies (Millionaire Cookies)
Momma21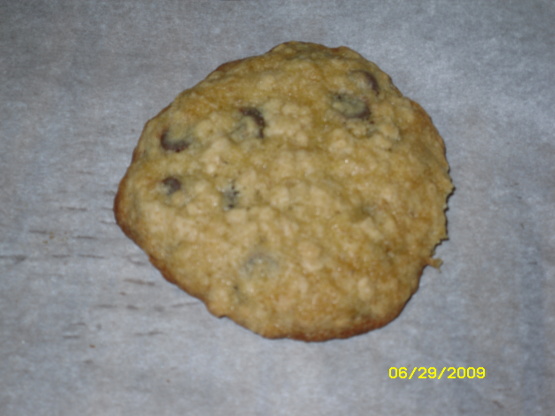 This recipe was given to me by my aunt. This is the best chocolate chip cookie recipe I have ever tried.

WOW! These cookies are amazing! Can't believe how easily I made them. I halved the recipe and since I didn't have chocolate chips in the house I had to manage with just the candy bar. No nuts either.. yet it was delicious! Will definitely make it again. I have made cookies using oats in the past but this is the first recipe that asks that the oats be powdered. I liked it a lot better. I baked for about 15 mins .. as we like more crunch on the edges.. Perfect texture. Thanks for posting this super cookie recipe.
Cream together, butter, both sugars, eggs and vanilla.
In separate bowl, mix flour, powdered oats, salt, and baking powder.
Mix creamed, and dry ingredients, adding chocolate chips, melted chocolate bar, and nuts; mix well.
Scoop out small (golf ball size or smaller) amounts of dough on an ungreased cookie sheet, and bake at 350 degrees for 8 minutes or until browned.