Redsie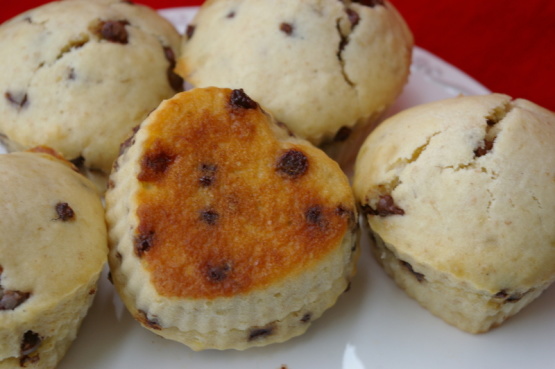 When I find my bananas getting too ripe I freeze them for later use. Just thaw them in the microwave when you want to use. Here is a recipe for chocolate chip muffins that uses one banana. They even taste healthy :-)
Preheat oven to 400 degrees Fahrenheit.
Butter 12 large muffin pans well or line with paper muffin cups.
Sift together all-purpose flour, whole wheat flour, and baking powder. Reserve.
Combine mashed banana with brown sugar until smooth.
Beat in eggs, milk and melted butter.
Stir in dry ingredients only until blended.
Quickly stir in chocolate chips. Do not overbeat.
Spoon mixture into prepared muffin cups. An ice cream scoop works well for this.
Bake 25 minutes or until browned slightly.
Cool on racks.
Preparation time 15 minutes, Cooking Time 25 minutes, Yield 12 large muffins.
RJ's Note: Tested recipe August 31, 1999.
I substituted 1/3 cup canola oil instead of butter.
The banana and chocolate chips give the muffin a nice flavour and it is not overly sweet. Tastes almost healthy :-).