Chocolate Chip Meltaway Cookies
Chickee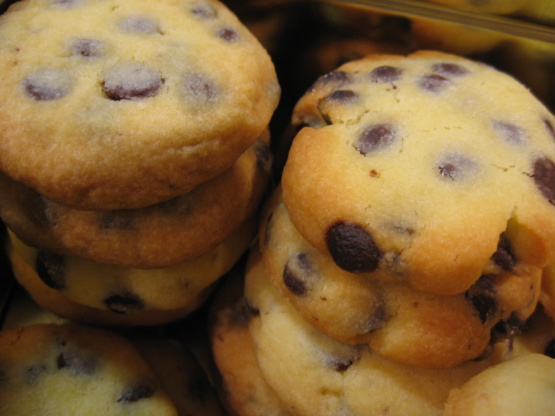 Listed as one of the five best cookies to ship because they keep their shape and can last at room temperature for about a month - they will practically melt in your mouth! Cooking time includes refrigeration time

These were so unusual for a chocolate chip cookie. They were pretty crumbly, and I'm not sure I liked that too much. However, the flavor was good. I made them as posted except used regular sized chocolate chips instead of miniature. Made for 1-2-3 Hit Wonders Tag.
In a small bowl, combine flour, corn starch, and confectioners' sugar. Set aside.
In a large bowl, cream butter and vanilla extract until smooth.
Add flour mixture and begin mixing on low speed.
Once mixture begins to get thick, increase speed to thoroughly mix until combined, scraping down sides.
Scrape batter from beaters, and mix in chocolate chips with a large spoon.
Refrigerate dough for 1 hour to firm up. (It's important that the dough be cold).
When ready to bake, preheat oven to 350°F.
Roll dough into 1-inch balls (no larger).
Place 1-1/2 inches apart on lined baking sheet, flatten if desired., and bake for 10 to 12 minutes until bottom edges just barely begin to turn brown. (Do NOT over-bake)
Cool on racks.
Pour powdered sugar into a bowl or plastic baggie.
Shake chocolate chip meltaway cookies in powdered sugar.
Store in an airtight container.