Chocolate Chip Ice Cream Pie
Mulligan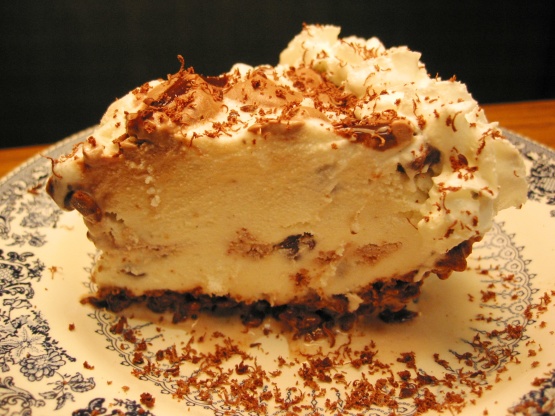 I got this recipe in the mail sometime ago. I haven't tried it even though it is right up my alley.

Excellent. Easy to make...couple steps but SO simple and no bake, too!! (I don't consider microwaving baking lol.) Tasted SCRUMPTIOUS! The chocolate/sour cream mix was more "globby" for me as well...but who cares...taste was the same. (Did I mention it was SCRUMPTIOUS??!?) The mixture could easily be put into a squirt bottle for application if you want something "prettier." Thanks for the great recipe! Definitely a keeper.
butter a 8-ince pie plate.
in a small mirowave-safe bowl mix chocolate syrup and chocolate chips microwave on high until hot around (40 seconds) mixture should be smooth. set aside 1/4 cup of mixture.
mix the remaining chocolate mixture and cereal in a medium mixing bowl you are coating the cereal with chocolate. press the mixture over bottom and sides of the pie plate. freeze until firm this should take around 10-15 minutes.
now combine the chocolate you set aside and the sour cream in a small bowl and mix well. Now on the pie crust spread 1/2 the ice cream in the pie pan. now drizzle about 1/2 the sour cream mixture onto it. top the rest of the ice cream on it and drizzle the remaining sour cream mixture onto it. freeze pie until firm. This should take about an hour.