Chocolate Chip & Dipped Almond Fingers
Rita1652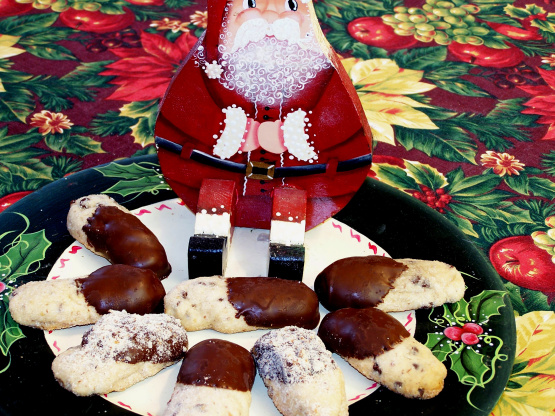 For all you Chocolate Lovers with the richness of almond. I bet you can't eat just one! These cookies I make for the Holidays! Almond filling is defined (SOLO)it comes in only one size thats 12 1/2 ounces. Almond paste and filling are 2 different things! The almond filling give the cookie a very soft texture. www.solofoods.com

I could not find Solo filling, but I did find Bakers almond filling which is made my the same company...according to them, both brands are interchageable in all recipes. These cookies were very easy to make...I didn't even have to chill them! The kids really liked them, but I was expecting more of an almond flavor. I have used almond filling before, but actually as a filling and it is very flavorful. I have never mixed it into a dough, so I wasn't sure what to expect. I think next time I may sub almond extract for the vanilla to try and achieve a more intense flavor. Overall, this is a very good unique cookie recipe. Thanks for sharing!
1⁄2 cup sugar

2

egg yolks

1

can almond filling (Solo)

1

teaspoon vanilla

3

cups flour
1⁄2 teaspoon cinnamon
1⁄2 teaspoon salt

6

ounces semi-sweet chocolate chips

6

ounces semisweet chocolate, melted with 2 tablespoon butter
sugar, for sprinkling tops of cookies before baking
Cream 14 tablespoons butter and sugar.
Add egg and beat well.
Beat in almond and vanilla.
Sift together flour, cinnamon, and salt.
Add to creamed mixture.
Blend in 6 ounces of chips.
Chill till workable.
Take a tablespoon of dough for each cookie shape into fingers (if needed use flour to help form cookies) and place on greased cookie sheet.
Sprinkle with sugar.
bake at 350 for 20 minutes.
Cool on rack.
Dip one side of cookie in chocolate.
Place on waxed paper till set.